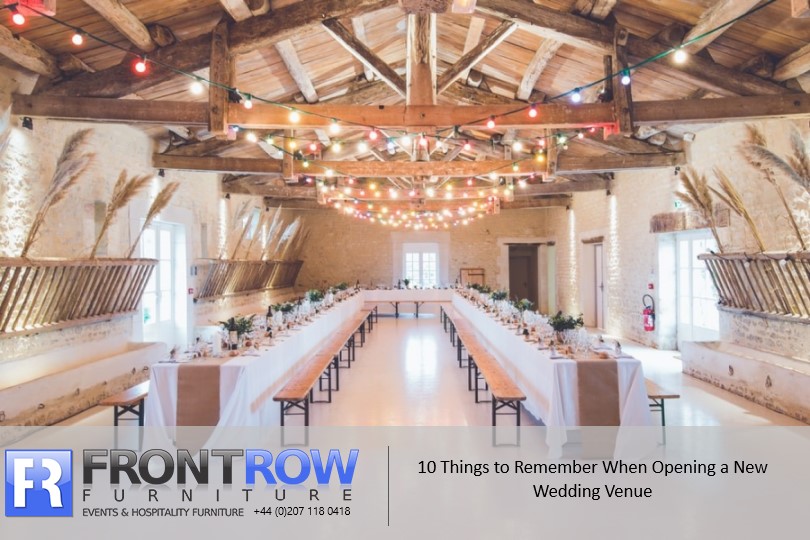 Perhaps you're an entrepreneur, property developer or wedding professional who is considering setting up their own wedding venue. If so, there's a lot to bear in mind. While the wedding industry can be a lucrative and exciting one, it's also one with a number of pitfalls, so read on to discover our top ten expert tips to make sure your start-up is a success.
1. Assessing Your Finances
The first step before opening a wedding venue is to take an overview of your finances. Will you be leasing or buying a property? Do you need finance? Will you be using an existing building or creating a new building from scratch? The answers to these questions will help you to get the money side of your enterprise in order before moving forward.
2. Choose the Right Location
If you don't already have a property in mind, you need to choose the best venue. Make sure to choose a spot which will be attractive to couples and which fits within your budget without the risk of renovations causing the budget to get out of hand.
3. Research Your Rivals
There will be other wedding venues in your local area. Take the time to find out what they're doing so you can develop your own USP and make your business stand out.
4. Which Services Will You Offer?
Will you be offering couples any other services as well as wedding receptions? If you'll be offering overnight accommodation, catering or any other options for couples to choose from, you'll need to determine which ones in advance.
5. Priority Projects
You'll need to determine which projects will need to be tackled first before you can open your venue. For example, you'll need to make sure that you have catering space, bathrooms and enough parking for guests
6. Setting Up Furniture
You're going to need to equip your new wedding venue with appropriate furniture and accessories suitable for hosting all kinds of groups. There are lots of options to choose from, so whether you prefer to go for rustic benches to work perfectly in a barn or beautiful Louis chairs for a stately home or hall, it's important to think about complimenting your space while also meeting the needs of your clients.
7. Consider the Details
Once your priority projects and furnishings are sorted, you should consider adding details and touches to make your venue even more appealing. Landscaped gardens, outdoor lighting and a bridal suite are just some of the extras you might want to consider adding.
8. Set Up A Website and Marketing
You'll need to make sure that potential clients will be able to find your venue by setting up an attractive website and spearheading an effective marketing campaign. Marketing your venue on social media will also be highly beneficial.
9. Forge A Network of Contacts
Network within the local wedding industry to make contacts with useful and reliable suppliers. Having close working relationships with other professionals will help you to offer clients a better service and will also help to bring more couples your way.
10. Open Your Business Soon
Now you're ready, don't wait too long to open the doors and start hosting couples for their big day! If you've borne all of the above in mind, you'll find that your new venue is a great success!