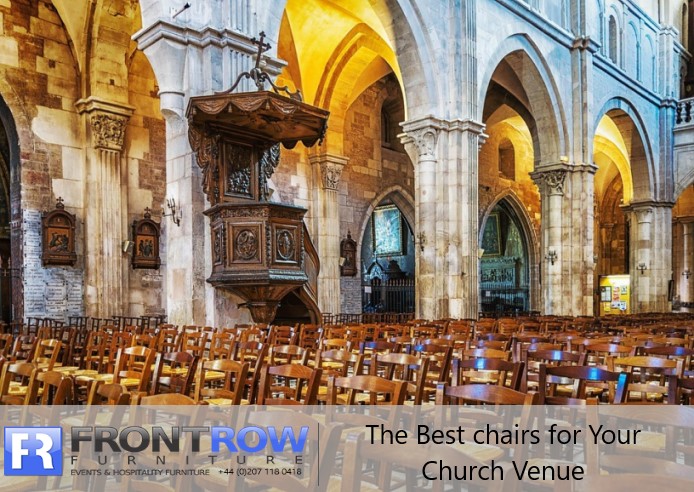 Are you looking for suitable furniture for a church? You're no doubt facing a number of challenges. Gone are the days when the only option was uncomfortable pews. Now, many modern church venues offer greater flexibility when it comes to seating, and this means finding the best chairs can be yet another element to add into your planning.
Churches aren't only used for religious worship, they're also used for wedding celebrations, adult baptisms, prayer meetings, Bible studies, church meals, renewal of vows and other important religious occasions at which there are sure to be a number of attendees. The trick is finding the right mix of comfort, affordability and appropriateness for a religious setting. With these problems in mind, here are some expert tips to help you to choose the right chairs for your church venue.
Choosing Quality
It goes without saying that the number one consideration when choosing furniture for any venue has to be quality. Good quality chairs won't just look their best, they'll also stand the test of time and be durable enough to withstand regular use – something which is absolutely vital for any church. Since churches are important buildings with a standing in their local communities, the furniture selected must be appropriate and suitably stylish without compromising on comfort.
The Affordability Problem
When choosing furniture for a church, cost is always going to be a major consideration. Of course, that doesn't mean that you should be choosing the absolute cheapest chairs on the market – as we already mentioned, furniture for any church has to look appropriate and has to be comfortable enough for the congregation to sit on for extended periods of time. Therefore, finding the right balance of quality and affordability is key. A little cushioning will go a long way with the congregation over a two-hour church service multiple times per week.
Chiavari Chairs v Metal Banqueting Chairs
Two of the most popular chair types for church venues have to be Chiavari chairs and metal banqueting chairs. Both have a lot to offer for this type of setting. For a start, both are stackable, so the right number of chairs can be put out for each occasion and then stored away with ease when they're not in use. This is especially useful in church halls which are also used for social occasions, clubs and groups when not being used for worship.
Metal banqueting chairs are a little more affordable and come in a range of colours and designs. They look especially good in modern Baptist or Evangelical church settings where there are no stained-glass windows, high ceilings or stone altars. Meanwhile, Chiavari chairs have a classic look which is perfect for a traditional church setting. They also come in versions with an inclusive seat pad or hard-seat versions with optional seat pads available. Book pouches are also available for both chair type, which are perfect for storing Bibles and hymn books.
Buying Your Church Furniture
If you're ready to choose the perfect furniture for your church venue, discover our impressive furniture range at Front Row Furniture. We have a wide variety of options to choose from including Chiavari chairs and metal banqueting chairs which are both very popular types of church furniture. Visit us today to learn more.