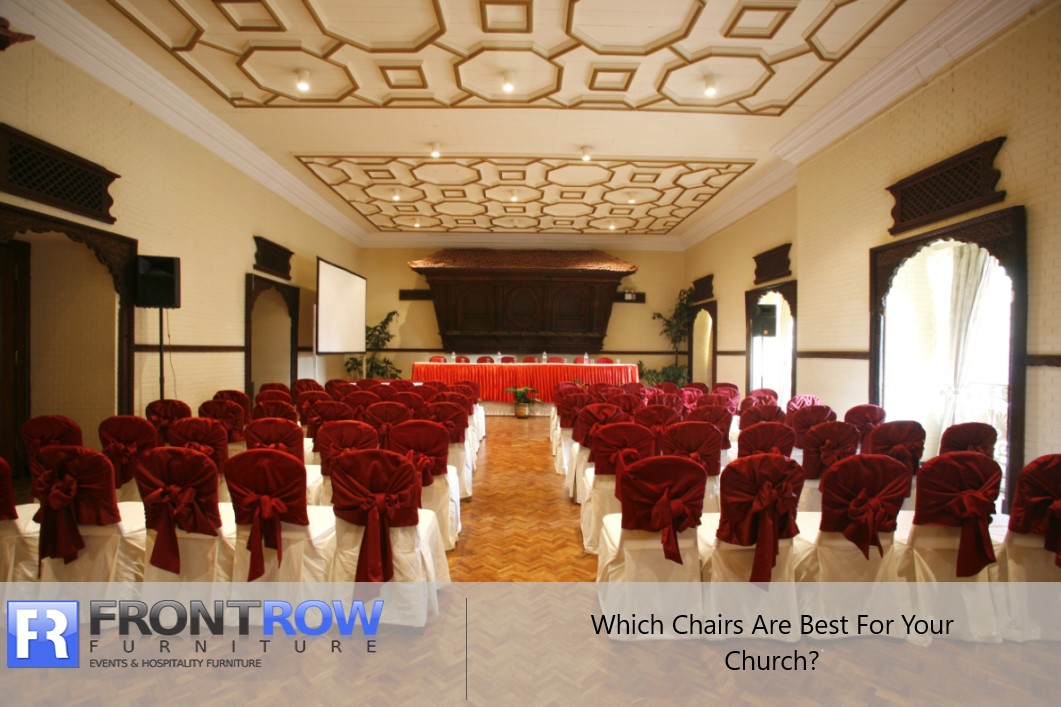 Church Chairs — Which Chairs Are Best For Your Church?
Purchasing high-quality furniture for your Church ensures that your congregants are comfortable whenever they attend a church event. Being comfortable helps attendees remain focused on the message they receive during the service and enjoy their time while in church.
In addition to being comfortable, church chairs should also be durable, portable, attractive, and functional. This will ensure that your church gets years of use out of your newly purchased chairs and that they look fantastic inside your church.
If you are in the market for new church chairs, you have reached the right place. This article will share some useful tips for choosing high-quality church furniture and identify some great products that are ideal for churches.
Important Considerations When Choosing Church Chairs
Do you require permanent or moveable chairs?
The first consideration to keep in mind when choosing church chairs is how often they will be moved.
If you are purchasing chairs that will permanently remain inside the church (in the same formation), then portability isn't a factor that you need to be concerned about. You can safely purchase heavier chairs that have more padding and thicker metal frames. For example, this Shield Back Steel Banqueting Chair or the Round Back Steel Banqueting Chair would work well as permanent seating in a church. This chair is extremely comfortable, durable and looks fantastic. It also happens to be stackable so you can still change seating formations easily. The Banqueting Chair Trolley can also be used to move them around with ease.
If you often move chairs to make room for choirs or performers, portability is a much more important consideration. You should look for chairs that are:
StackableHaving stackable chairs allows you to move and store your chairs more easily. The Banquet chairs stack 8-10 high
Lightweight A light weight chair with a plastic frame will be much easier to move around, but for the balance between strength and lightness, steel stacking chairs remain popular. Steel chairs are not overly heavy and are easily transportable using trolleys, if required.
DurableChairs that are constantly being moved around are more likely to be damaged, so choose a product with a high level of durability. Ideally, choose chairs that have a metal frame.
Linkable and un-linkable (optional)Some chairs have the ability to be attached to one another to form very stable rows of chairs. This can be useful if you set up the chairs in straight rows for performances or sermons. Front Row Furniture sell linking clips for most of our chairs, such as our Metal Banqueting Chairs and Folding Plastic Chairs. Please click here to see our Linking Clips. Having removable linking clips allows continued flexibility on how the chairs can be used. This flexibility can also help resale value if selling your used church chairs in the future.
A couple of thebest choices for internal portable seating would be the Round Back Steel Banqueting Chair or the Shield Back Steel Banqueting Chair. Both are stackable, up to 10-high, highly durable and easy to handle.
If you are running outdoor sermons, events or classes, there are many ultra-portable chairs to choose from including Folding Wooden Chairs, Folding Plastic Chairs, or Resin Folding Chairs (Padded).
How comfortable are the chairs?
As mentioned at the start of the article, comfort is particularly important for church chairs. Being able to sit in comfort during a one hour service makes it much easier for congregants to listen to the service and comprehend the wisdom being shared.
Look for chairs that have plenty of padding to keep attendees comfortable. They will allow congregants to sit comfortable for longer periods without experiencing back pain.
Do the chairs match the aesthetics of your church?
The colour and design of the furniture you purchase will set the tone in your church. Is your church a busy and vibrant place? Consider purchasing furniture that has bright colours. Is it a reverent and quiet place where worshippers come to find inner peace? Consider more subtle colours.
If your church already has a certain design aesthetic, find chairs that match it. For example, if you have a beautiful old church with simple windows and hardwood flooring, a simple wooden chair might be appropriate. If your church has more decorative elements, you might prefer a chair that is also elaborately designed. Front Row Furniture supplies chairs in red, blue, black and gold fabric with either a silver or gold frame.
How safe is the chair?
It's important to find chairs that are built to a very high standard. This will ensure that congregants can safely sit on the chair without it collapsing or becoming unbalanced. Any chairs that you purchase for a church should be commercial grade, as they are built to a higher standard.
Look for church chairs with a strong, stable seat and a solid frame. In most cases, this means chairs with metal frames will be a better choice for inside the church. The chairs you purchase for inside the church should also be Fire Resistant.
How will the chairs be used?Modern day churches are busy places that are involved in many types of events. In addition to running church sermons, the church may be used for concerts, picnics, meetings, and Sunday School classes.
If some of these events are held outdoors on the church grounds, ultra-portable, weather-resistant chairs may be required. There are plenty of options available including Cross Back Stacking Chairs, Folding Plastic Chairs, Garrotxa Bistro Patio Chairs, and Chiavari Chairs.
How affordable are the chairs?
Most churches have significant budget constraints which dictate how much they can spend on church chairs. For this reason, it is usually a good idea to use a wholesale furniture company that specialises in commercial furniture. They will be able to handle bulk orders, provide a high-quality product, and offer much better value-for-money with bulk discounts.

Thanks for reading Church Chairs — Which Chairs Are Best For Your Church? If you have any questions about church chairs, contact Front Row Furniture today on 0207 118 0418 or via email at sales@frontrowfurniture.co.uk