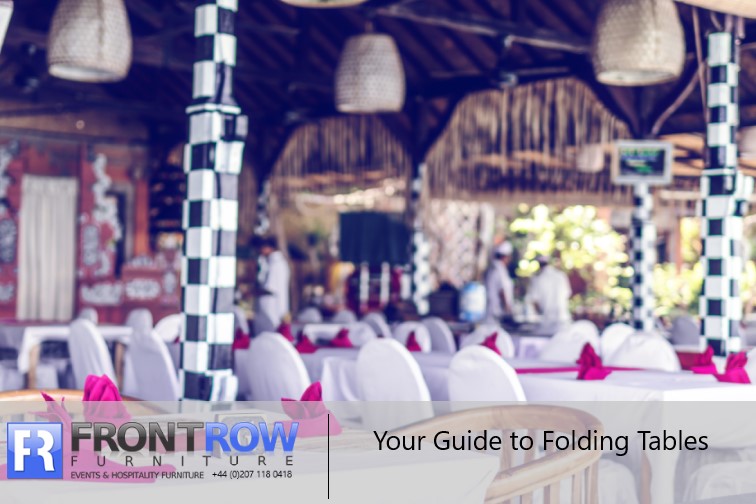 Whether you're planning a charity gala, a wedding or a children's party, folding tables can have a major part to play in your arrangements. They're the truly convenient solution for all kinds of requirements. Do you need to serve a buffet? Display items at a jumble sale? Do crafts at a children's party? Seat diners? Are you hosting your event indoors or outdoors? Whatever your needs, a folding table can meet them all.
Wood Or Plastic?
There are two types of folding table to choose from – wood or plastic. Both have their own benefits. Plastic tables are lighter and easier to move around. They're also very easy to wipe clean, which makes them a great choice when serving food or doing messy craft activities. Meanwhile, wooden tables look more attractive and are more durable, making them a good choice for any kind of event where appearances matter.
Easy Transportation And Storage
Perhaps the biggest benefit of either plastic or wooden folding tables is their portability. Since they can fold down, they can be stored away in smaller spaces and can be stacked against each other to take up a lot less space in a storage room or cupboard. Plastic folding tables are also lightweight and easy to transport in a car or van between different venues.
When you're arranging an event that requires a flexible space, folding tables are a perfect choice since they can be put up and taken down quickly, giving you the room that you require easily. If you're planning on hosting numerous events for different purposes and with different requirements, folding tables give you the versatility you're looking for.
Durability
A Wooden folding table will be an especially durable choice for any kind of indoor event. Perfect for use as a buffet table at a wedding or party, a folding wooden trestle table gives you the space you need to display your food in a stylish way with the convenience of being to fold it away quickly and easily afterwards when it's no longer required. You can also pair it with matching round wooden folding tables for guests to sit at while they eat for an attractive dining solution for large groups.
Ideal For Indoor Or Outdoor Events
Whether you're hosting an event indoors or outdoors, folding tables are a good choice. As they are easy to erect and disassemble, they can easily be taken to an outdoor venue whenever required. Plastic folding tables are especially useful in an outdoor location since they are weather resistant and can easily be wiped dry if it rains.
Buying Your Folding Tables
Once you've chosen the best folding tables to suit your requirements, it's time to make your purchase. Here at Front Row Furniture, we stock an impressive range of plastic and wood folding tables in a range of sizes to meet your needs. Browse our selection today or contact our expert team who can offer you advice about the best folding tables for your event.