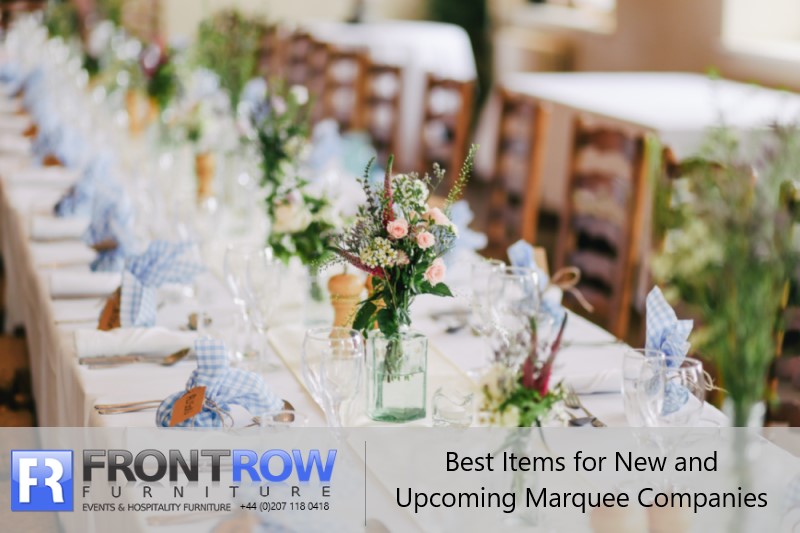 Are you launching a marquee company, or have you recently started up your own marquee business and want to know which items you should add to your essential inventory? There's a lot to think about when it comes establishing any new organisation, however planning which items to have in your stock is one of the most important elements to bear in mind.
Whether your marquee will be hired for wedding receptions, charity events, balls, corporate occasions or parties, you're going to need a number of staple furniture items that are good quality but flexible enough to suit all kinds of events. With this in mind, here is our advice about the best items for your new or upcoming marquee company.
Wooden Tables
The very first items that you're going to need to add to your marquee company inventory has to be wooden tables. These are stylish and elegant and can either be decorated with tablecloths or left uncovered for a natural yet appealing look. You may want to opt for a mix of round and rectangular tables in a range of sizes to ensure that you can accommodate a wide variety of requirements.
Round banqueting tables are perfect for wedding receptions and parties, while wooden trestle tables are ideal for buffets or displays, or for head tables at conferences.
Flexibility
You may want to consider choosing folding tables as they are much easier to transport and store. The whole point of a marquee company is to be able to move your venue from site to site to suit the requirements of the hirer. Therefore, you'll need a convenient way to transport your furniture too. Folding tables can be packed flat and are lightweight enough to move around with ease. They're also quick to set up and disassemble, making preparing for and cleaning up after the event a breeze.
Chiavari Chairs
Of course, you're going to need chairs to accompany your tables, and again, flexibility is key. You need chairs which will work for a wide range of occasions and Chiavari chairs are sure to fit the bill. Available in a range of finishes, styles and colours, these traditional wooden chairs are stylish and elegant enough to suit a formal occasion while also offering the convenience of being stackable. This makes them simple to store and transport – perfect for any marquee company.
Accessories
Finally, you're going to need some accessories to add the perfect finishing touch to your fully decorated event marquee. Seat covers, seat pads and chair sashes are all ideal for adding a sophisticated and elegant look to any event and are simple and easy to fit. Make sure to choose a range of colours so that you can provide your hirers with decoration that matches their event theming.
Buying Your Marquee Event Furniture
When you're setting up your marquee company, look no further than Front Row Furniture for all your furnishing needs. We have an extensive range of tables, chairs and accessories to suit all your requirements.