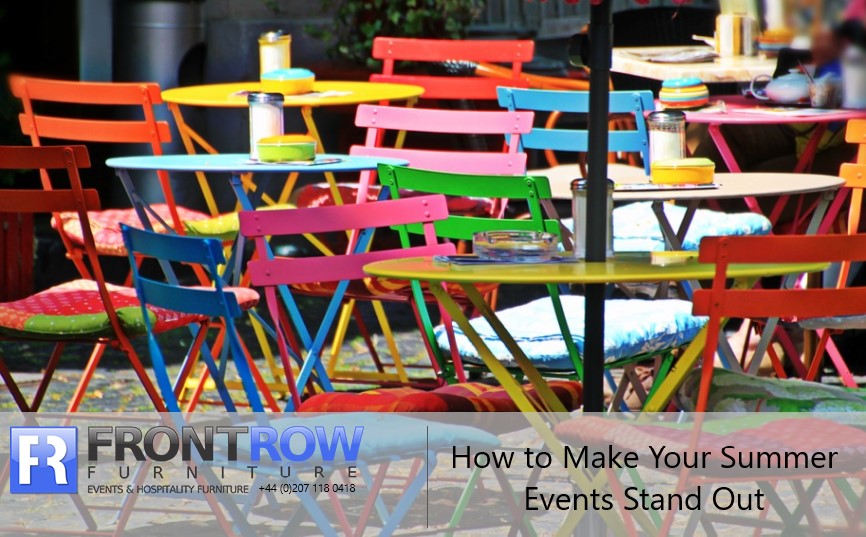 The summer is a key time for many businesses, with outdoor events being an important element in seasonal promotions and marketing campaigns. If you're arranging a concession stand, an outdoor promotional stall or if you are running an outdoor corporate event during the summer months, making it stand out from the crowd is about as vital as it gets.
Luckily, there are lots of ways in which you can draw in more foot traffic and make your event really buzz. Here, we offer you our expert tips so your summer events will be eye-catching.
Choosing The Right Outdoor Furniture
When it comes to summer outdoor events, you're going to need to choose specially designed outdoor furniture. Taking furniture designed for use in an indoor environment into an outdoor space isn't just impractical, it also looks out of place. Creating a streamlined look for your outdoor event becomes possible when you select items that are constructed especially for use in all-weather conditions.
For an outdoor dining event, you may need to consider choosing outdoor banqueting tables and banquet chairs, whereas for an event which requires attendees to sit for extended periods, you might want to think about something a little bit more comfortable yet environmentally appropriate – maybe even padded folding chairs.
A Colourful Approach
Summer is the perfect time of year to really harness the potential of colour. Bright shades can attract people to your stand if you are participating in an outdoor exhibition, while colourful plastic folding chairs or tables can create a festive feel to any occasion.
Using Flexible Furniture
Whatever the outdoor event, flexibility and versatility are often of the essence when it comes to furnishings. Chairs and tables which can be stacked or folded away for easier transportation and storage is the best solution. You can choose from plastic or wooden folding chairs and tables to create the right feel for your event.
Durability Is Key
When furniture is going to be used outdoors it needs to be durable and suitable for use in external environments. This is especially the case for summer sporting events when robustness is especially important. A wooden folding table with matching chairs is strong and suitable for use in a range of outdoor environments whatever the occasion.
Planning is key to any successful event, and doubly so when it comes to an outdoor summer occasion. Whether you're arranging an exhibition, a corporate event or sporting activities, you can be confident that if you choose functional yet attractive furniture designed for use in an outside environment in a bright and appealing colour, you will be giving your event the best possible chance of success.
Whether you need to attract business or ensure the attendees' comfort, Front Row Furniture will have the perfect items to furnish your event. Get in touch with us by calling 0207 118 0418 or shoot us a message at sales@frontrowfurniture.co.uk to see how we can help!