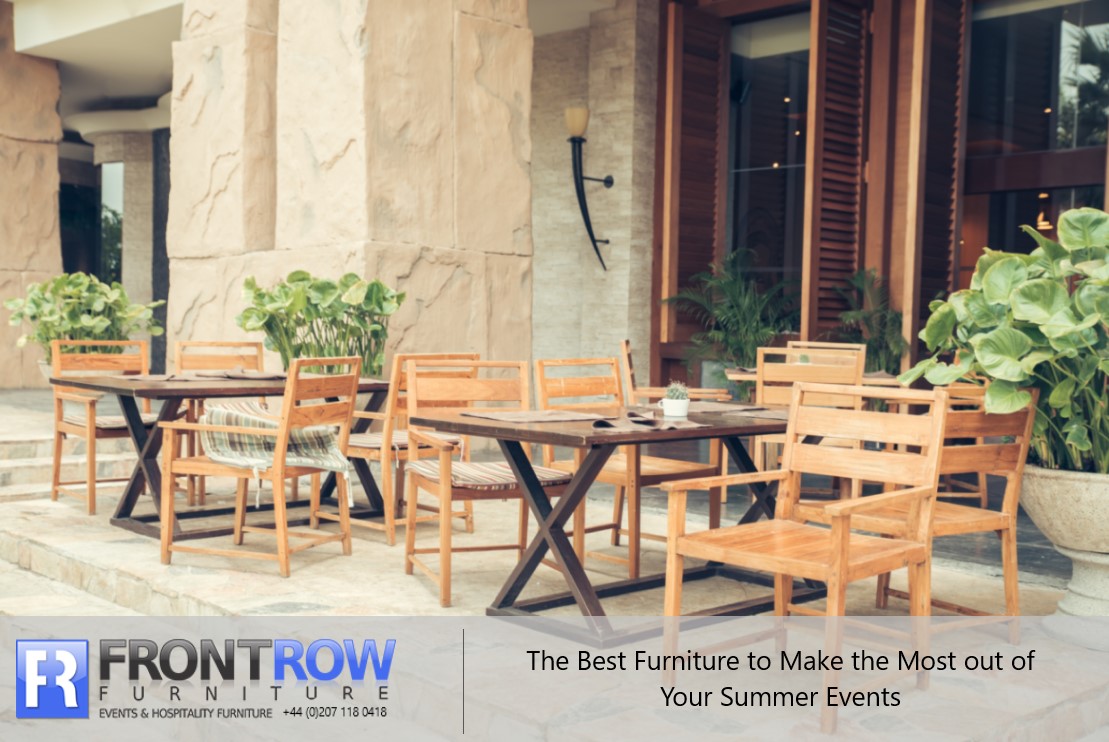 Summer is just around the corner, and that means that hopefully, the sun will be coming out soon! Not only that, there are a host of exciting seasonal events on the horizon. From summer balls to corporate barbecues, and from wedding receptions to parties, these months of the year represent some of the most popular weeks for holding all kinds of celebrations and occasions.
If you're running a venue, marquee company or event planning business, you're going to need the right furniture to ensure that all the summer events that you'll be arranging will run smoothly and efficiently.
Not all furniture is created equal. Furnishings which are absolutely ideal for a work Christmas party just won't have the same effect when used for a summer charity barbecue. With this in mind, let's take a look at how to choose the best furniture that will make your summer events streamlined and stylish.
Indoors or Outdoors
The first thing to consider when buying summer events furniture is versatility. The British weather doesn't always cooperate. That means that you may need to alter your venue at short notice. For example, if you were planning an outdoor summer party but then a deluge strikes, you'll need to be confident that your furniture will work just as well in a hall or ballroom as in a garden or park.
For this reason, folding furniture is often a good idea. Folding tables and chairs are quick and easy to set up and take down and are lightweight enough to move around between different venues as required. If you choose wooden foldable chairs and tables, they will look great both outdoors and indoors whatever the weather.
Flexible Seating
Not only will you need to consider whether the furniture you choose is suitable for indoor and outdoor use, you'll also need to consider the flexibility of your seating. Summer events take make shapes and forms, from casual barbecues to charity balls and from wedding receptions to sporting events. All of them have very different seating requirements, and for this reason you're going to need to select chairs which are suitable for use in a range of settings and for a range of purposes.
Stackable chairs are often a good choice for this. Easy to load onto a trolley for convenient transportation, they can also be quickly and easily put into use when required or stacked away along the side of the room or space when not in use.
Folding chairs are another flexible solution since they are very simple to set up and take down and can be decorated for special occasions with accessories like chair sashes and chair covers to make them look elegant and sophisticated, or left plain for more casual occasions. Lightweight enough to be put into various configurations, these chairs are perfect for every summer event.
Durability
Any furniture that you use for your summer events need to be sturdy and durable enough to withstand the rigours of regular use. Summer events can be hard on furnishings, especially if they are going to be held outdoors in the British weather. It's important to choose chairs and tables which are made from robust materials which won't be damaged by being moved around or kept in the open air for several hours at a time.
Summer events can be quite wild compared to those held at other times of the year. Sporting events, for example, can see passions overflowing and an over-exuberant response to scoring a goal or winning a tournament can lead to broken furniture if you make the wrong choice. Ensuring that you've selected items which can cope with a little rough treatment is always a good idea if you want to protect your investment.
Outdoor Furniture
Many summer events are held outdoors, and that brings its own considerations when choosing furniture. You can't use the same kind of furniture for an outdoor seasonal event as you would use indoors, so you need to bear in mind the specific requirements of open-air parties and celebrations. Plastic furniture is often the best choice for an outdoor summer occasion.
Whether you're looking for dining tables and chairs, buffet tables or display tables, plastic trestle tables are the perfect choice for outdoor use. Large and convenient, they are easy to clean by simply wiping them down if they get dirty and they can quickly be dried in the event of inclement weather without the risk of any damage.
Well-made plastic tables are durable and long lasting while also being light enough to move around with ease. They're also easy to adapt to different purposes. They can either be used uncovered when looks aren't too important or covered with a stylish tablecloth if a more formal look is required. They can also be brought indoors for use as and when required without any difficulties.
Plastic chairs to accompany the plastic tables are also a good idea if you want to ensure that all your furniture will be weather resistant and practical. However, stackable resin Chiavari chairs could also be the perfect solution if you're looking for an easy to clean, weather resistant and more stylish seating option for a formal occasion.
Buying Your Summer Event Furniture
Hopefully, these tips will help you to make the right decisions when choosing the perfect furniture for your summer events. You can be confident that, whatever type of event you'll be responsible for arranging, you'll have the ideal tables and chairs to accommodate the attendees whatever the venue and whatever the weather.
Visit Front Row Furniture today and discover our impressive range of furnishings that are sure to meet your requirements. From plastic folding chairs to large trestle tables and stylish Chiavari stackable chairs, we have everything you need to enjoy a stylish summer of endless celebrations!
Check out our website or contact our friendly team now and find out more about how we can help you to select the ideal furniture for you.