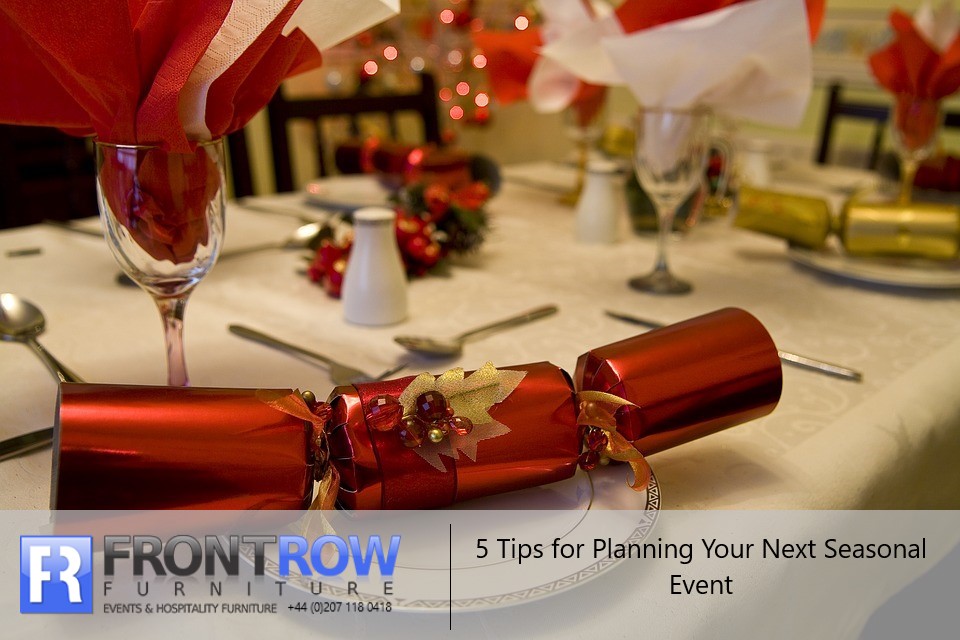 Seasonal events are vital times of the year for any event planning company or venue; however, they can raise all kinds of issues. Planning a seasonal event involves putting a lot of thought and effort into all aspects of the arrangements, from theming to décor and from food and drink to entertainment.
If you're responsible for organising a Christmas celebration, summer ball or Easter party and need some expert advice, read on and discover some top tips that will stand you in good stead to ensure that your event is a huge success.
1. Choosing a Colour Scheme
Top tip number one has to be to choose the right colour scheme to complement the theme of your event. There are certain colours that lend themselves perfectly to particular times of year, and by selecting these, you can easily put your guests in the right frame of mind to enjoy themselves.
A Christmas celebration, for example, works well with a colour scheme of green and red, since these two classic festive shades not only complement each other but fit perfectly with the season. For a summer ball, bright tropical colours work well – watermelon pink, fern green and bright blue all help to put guests in a holiday mood.
Valentine's Day is traditionally represented by reds and pinks while Easter events are perfectly complemented by pastel pinks, blues and yellows. And of course, it goes without saying that a Halloween party would be nothing without an orange and black colour scheme!
There are lots of ways that you can bring your chosen colours into your décor. Flowers, ribbons, confetti, balloons, streamers and chair sashes are all simple solutions for adding colour to your space.
2.Sticking to the Theme
When you're planning a seasonal event, it's important to include lots of themes in your celebration which relate to the holiday itself. For example, your Christmas party simply wouldn't be the same without classic seasonal foods like turkey and Christmas pudding. Choose holiday themed decorations – for example, hearts and flowers for a Valentine's Day party or pumpkins and ghosts for a Halloween celebration.
Choosing suitable entertainment and music to complement the theming is also important. Classic Christmas hits are the standard soundtrack to any holiday party, while love songs are essential for a Valentine's Day ball.
3. A Charitable Event
When you're planning a seasonal event, it's often an idea to tie it in with a charitable theme. Attendees are often keen to support charities at these key times of year, and you can encourage donations by offering themed raffles, holiday themed fancy-dress competitions, and even charity auctions.
4. Planning the Tables
One mistake that some event planners make is failing to think in advance about the right kind of tables to choose from their seasonal occasion. Different types of event require different styles of table and there are plenty of sizes and designs to choose from. For example, you need very different tables for a formal corporate Christmas dinner to those required for an outdoor Summer barbecue. Thinking ahead about your event's specific requirements couldn't be more important to ensure the right atmosphere and your guest's enjoyment.
First, you'll need to think about the shape of tables that best suit your event. For large meals such as those at a Christmas banquet, for example, you will probably want to opt for large trestle tables along the length of the hall to seat as many people in the most convenient, space-saving way possible.
On the other hand, if you're arranging an event with a more party-like atmosphere such as a New Year's Eve party, you'll probably find it better to opt for smaller round tables around a central dance floor. Round tables facilitate conversation and socialisation much more effectively than rectangular tables, allowing individual guests to converse with a wider range of people other than those immediately next to or opposite them. While they take up more space in your venue, they promote a more festive atmosphere and allow for easier and freer movement around the room.
Next, you'll need to plan for the right size of table. Again, this will depend on the size of your venue as well as the number of guests who'll be attending. Smaller tables will take up more room but will allow for more intimate conversations. Meanwhile, larger tables will accommodate a greater number of people in a smaller space. You'll need to count your numbers carefully before determining which tables best suit your requirements. You could, of course, opt for a mix of table sizes if your venue allows for it.
5. Flexibility Is Key
Whatever type of seasonal event you're planning, one thing which simply cannot be overlooked is the need for flexibility. It's the nature of holiday occasions that things are open to change. More guests that you expected could well turn up, while others may find that they have other unexpected commitments which prevent them from attending. Some people may bring a guest, even though there was no plus one on their invitation while others may turn up much later than expected. It's clear that accommodating all these needs is essential.
One key aspect of staying flexible is to have spare tables and chairs just in case. After all, there's nothing worse than extra guests turning up unexpectedly and finding that they have nowhere to sit. If you want to avoid the embarrassment of attendees standing awkwardly at the sides of the room, leaving some spare space and having a couple of folding tables with a few folding chairs conveniently stored away close at hand will ensure that this potentially difficult situation is headed off at the pass.
Buying Your Seasonal Event Furniture
Are you ready to choose the right seasonal event furniture for you? Visit Front Row Furniture and discover our impressive range. We have a wide variety of tables, chairs and accessories to suit all kinds of holidays and celebrations, so you're sure to find just what you're looking for with us.