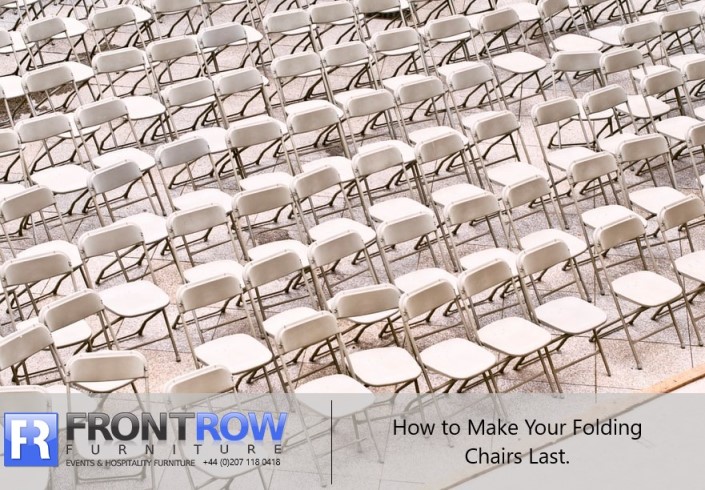 Have you selected folding chairs for use in your venue? It's certainly easy to see why. Folding chairs offer a host of benefits that other chairs simply can't offer. Available in a wide range of materials, styles and colours, they're a practical and affordable solution for both indoor and outdoor spaces where convenience is essential.
If you have folding chairs that you use for events and occasions at your venue throughout the year, you'll need to know how to care for them properly in order to ensure that they stand the test of time. Although folding chairs are affordable when compared to many other options, they can still be costly to replace in large numbers. Therefore, here are our expert top tips to help you to maintain and store your chairs properly to ensure they stay in good condition for longer.
Caring for Plastic Folding Chairs
Folding plastic chairs are cheap, simple to move and use due to their lightweight construction, and extremely convenient. They're also durable and robust, having been designed to stand the test of time. Nevertheless, they need to be maintained properly to ensure they avoid damage or breakage.
Every time you put your folding plastic chairs into storage, make sure that you've cleaned any marks, dirt or mud from the seat and frame using warm soapy water. Leave the chair to dry fully before putting into storage to ensure no mould or mildew grows on it.
Caring for Wooden Folding Chairs
If you have wood folding chairs, the method of caring for them will depend on the type of wood that they are made from. While some woods, such as teak, require more care, beechwood chairs are very easy to look after, especially when they have a lacquer finish which makes them very resistant to scratches, chips and stains.
Beechwood chairs can also simply be wiped clean after use before they are put into storage to ensure that they are ready for use straight away next time that they are required.
Caring for Padded Folding Chairs
Before putting padded folding chairs into storage, make sure that you've cleaned the seats of any marks or stains. If food or liquids are allowed to remain on the upholstery for any length of time, when they are removed from storage there could be lasting stains which are impossible to remove or, even worse, mould which could render the chair unusable.
Keeping Your Chairs Safe in Storage
The best way to keep your chairs safe in storage is by using a Chair Trolley. These are perfect for helping to store, and make sure none of your folding chairs fall down, or get damaged. For added security we'd also recommend tying the chairs down to the trolley, for extra security. This can also help make sure chairs aren't damaged in transit.
Choosing folding Chairs
If you're ready to choose the right folding chairs for you, visit Front Row Furniture to find a great choice of high-quality seating options. From folding resin and plastic chairs to wooden and padded folding seating, and with a wide variety of colours to choose from, there is sure to be something which is absolutely perfect to complement your venue.