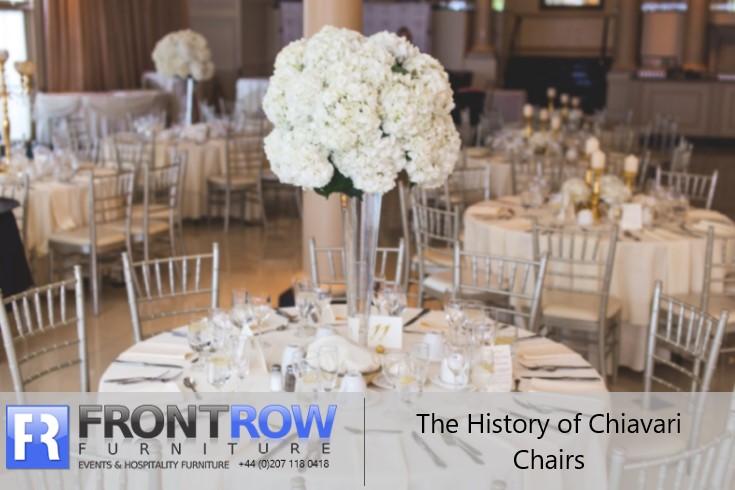 Most people who have attended a catered event or wedding will have sat on a Chiavari chair without realising it. Most of those people will also have no idea how to spell the word Chiavari, let along know what a Chiavari chair is! Here, we take a closer look at these popular and elegant pieces which are starting to be seen everywhere from upscale restaurants to award ceremonies.
What Is a Chiavari Chair?
Sometimes known as Tiffany chairs, Chiavari chairs are lightweight and have bamboo-like joints which are carved into the frame. This adds a classy and elegant look to the chair back which makes this the perfect choice of seating for upscale events and venues. The name of these chairs often causes some problems, with some people thinking that they are called "chavari" or "chivari" chairs. Nevertheless, the correct spelling is "Chiavari" after the town where they were first designed. It is pronounced as 'che-ah-var-ee'.
The History Of The Chiavari Chair
Originally created in the town of Chiavari in Italy, these chairs were built and designed by a cabinetmaker called Giuseppe Gaetano Descalzi. The first chair in this style appeared in 1807 following a request from the Economic Society of Chiavari's president asked him to rework some chairs for use in their facility.
The first design was made from cherrywood and featured a balloon back. It was solid yet light and elegant and this led to them becoming very popular, with some being gifted to the Pope and others being used in Queen Victoria's dining halls. During the 1950s, Chiavari chairs became even more popular when they were seen in use at the Kennedy's wedding reception.
What Are the Benefits of Chiavari Chairs?
This type of chair is very popular due to its stylish design and sophisticated appearance. Even better, these chairs are lightweight and are easily stackable and this makes them ideal for storing, transporting and moving around.
Another major appeal of these chairs is that it's easy to dress them for various themes and occasions. Suitable for use with or without a seat pad, they are a truly versatile option for any event or venue. They can also be easily decorated with sashes, bows, covers or lacing and this makes them a perfect choice for any kind of occasion.
They can also be easily stacked up to eight chairs high on a chair trolley with no risk of strain or tipping. Even better, their footprint is quite narrow, so more people can easily fit into a space and more chairs can easily be stored. With so many different materials and colours of Chiavari chairs to choose from, they work perfectly in both casual and formal settings.
Choosing Chiavari Chairs for You
If you're ready to choose the right Chiavari chairs for your venue, Front Row Furniture is your number one choice. With a wide range of stylish seating options to pick from, there's sure to be something to suit your requirements.