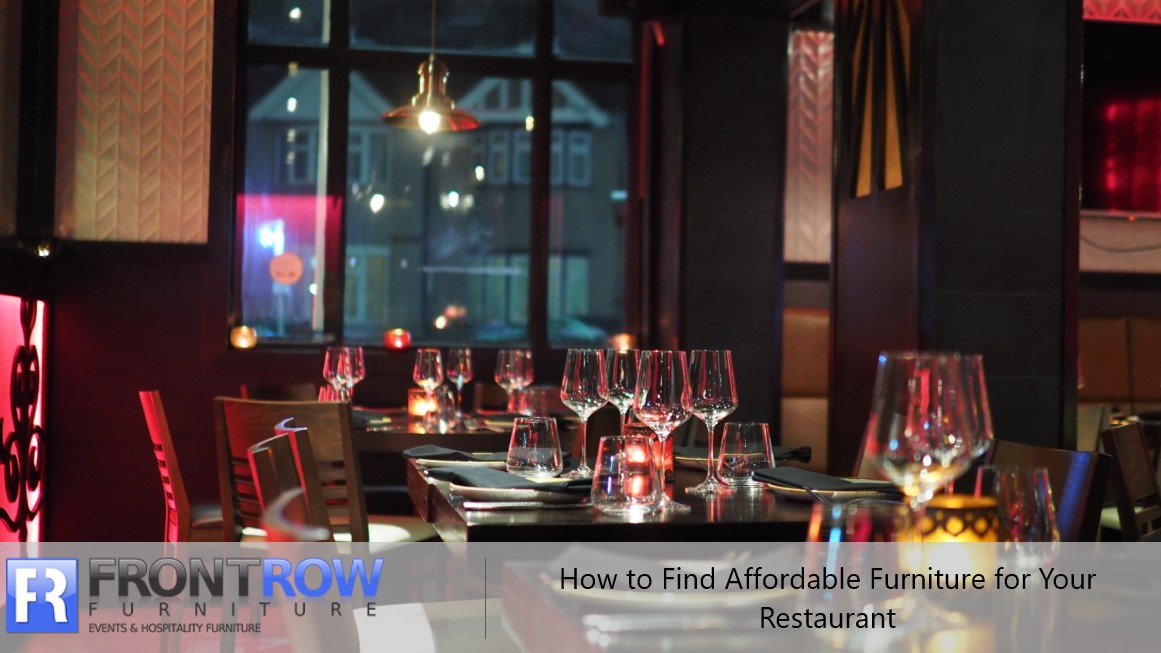 How to Find Affordable Furniture for Your Restaurant
Find out more about how high-quality banquet tables and banqueting chairs could help you to furnish your restaurant for a very affordable price with Front Row Furniture.
Regardless of the size of your restaurant, tables and chairs are likely to be a considerable expense. However, without comfortable chairs and tables your customers won't want to come back, so it's essential to make sure you invest in a high-quality design.
Can you find restaurant furniture that delivers on both comfort and cost? Here's a look at some of the factors to consider.
Strong but stackable
Most restaurants have at least an element of flexible furniture. Although you may have a few booths with diner-style seating, you probably also have many tables and chairs too.
Banqueting chairs offer a great solution as they're strong and sturdy but are also stackable. This provides the option of altering the layout when you need to but without resorting to lightweight chairs that simply won't last.
For restaurants, banqueting chairs are better than basic fold-up chairs as they feel far more comfortable for the customer to sit on. Choose a deeply padded banqueting chair design for a luxurious look that won't break the bank.
Choosing stackable chairs means it's possible to easily move seating out of the way when you need to. For example, if you want to put tables together, or add a banquet table to extend a seating area, being able to stack and move chairs around is a huge help.
The same principle applies to tables too, but to a lesser degree. As a larger piece of furniture, you might not want to have tables that can all be stacked. Nevertheless, it's useful to have some extra tables which can be stacked out of the way when not in use that can be brought out when required.
The necessary space
You might have an ideal layout for your restaurant in mind but you need to consider the practicalities of your plan. Large chairs and sprawling tables may look inviting but if you're short on room you won't be able to fit many customers in.
It's essential to strike a balance between making sure your customers are comfortable and having a layout that allows you to serve as many as possible per sitting.
If you're struggling to consider the alternatives, take a look at the different types of restaurant chairs and tables. This will give you an idea of the styles available, and you should begin to get a better idea of how you could lay out your space.
Don't forget the decor
Customer comfort, space and affordability are all factors but if your furniture looks frugal your restaurant will earn the wrong kind of reputation. You want your tables and chairs to look luxurious and match your decor, even if you've managed to purchase them for a bargain price.
Wooden chairs fit in well with a traditional decor, but they may not be as practical in an environment where people will be eating.
An alternative would be to opt for steel banqueting chairs with a shield back for a vintage appeal. Steel chairs can also fit in well with a contemporary theme; choose a round back and plain fabrics for a classy and minimalist style. The added benefit is that steel is strong and durable - perfect for stacking up!
Get in touch for more top tips
If you need more help deciding how to furnish your restaurant, get in touch with us here at Front Row Furniture. You can phone us on 0207 118 0418 or email us at sales@frontrowfurniture.co.uk - we're always happy to help.