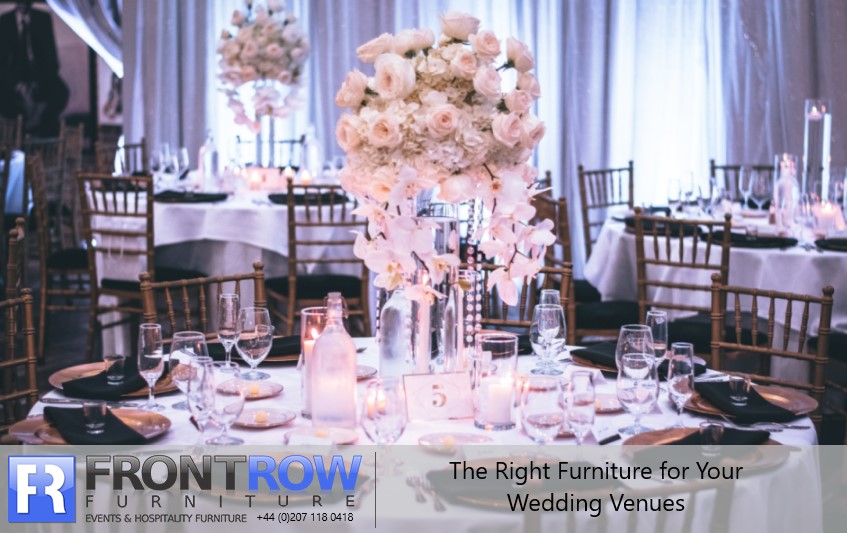 When you're planning a wedding there's a lot to organise, but it's important not to overlook the importance of getting the furniture right. You need to find tables and chairs to compliment your venue, to create the perfect ambience and, most importantly, to accommodate your guests in comfort and style.
With that in mind, here are some tips to help you get it right, so whether you need large banqueting tables with matching banquet chairs or whether you need to folding chairs and tables for a more informal outdoor event, we'll help you make the right decision.
Considering Venue Style
Your first consideration should be the style of your venue – is it a traditional or contemporary space? You'll need to select furniture which complements the venue, with sleek plastic or metal tables and chairs working best in modern spaces while a wooden trestle table with limewash Chiavari chairs may be perfect for a rustic-themed or classical venue.
How Spacious Is Your Venue?
Another consideration is the space you have available to you in your chosen venue. Is there a stage or dancefloor to take into account? Will guests be able to move around easily between the tables? Can food service be carried out without any problems? You need to plan how best to use your space without crowding your guests but while ensuring that everyone has a place to sit.
Banquet tables are useful for fitting larger numbers conveniently into spaces while a 6ft round table arrangement might work perfectly in a very large ballroom or dining hall. Stackable furniture or foldable chairs and tables are an ideal solution if space needs to be cleared later on for dancing or performances. There are lots of different foldable and stackable furnishing options to choose from including folding resin chairs and wooden folding table and chair combos.
Outdoor Or Indoor Event?
If your wedding will be held outdoors, you will need to choose different furniture than if you are planning an indoor celebration. Weatherproof furnishings are essential for outdoor events, with plastic folding chairs and tables being a good choice for weather-resistance and portability. For indoor celebrations, a more fine dining experience can be created by using luxurious banquet chairs or limewash Chiavari chairs with a formal round wooden table set up.
Colour Matching
One final element to keep in mind when selecting the right furniture for your wedding is the colour scheme. One way to achieve this easily is to choose neutral wooden furniture with spare seat pads that coordinate with the colour scheme of your celebration. This makes it easy to ensure the perfect streamlined look without any difficulties.
Do you need some advice about how to furnish your wedding venue? Contact Front Row Furniture now on 0207 118 0418 or at sales@frontrowfurniture.co.uk. Our expert team are happy to be of assistance.