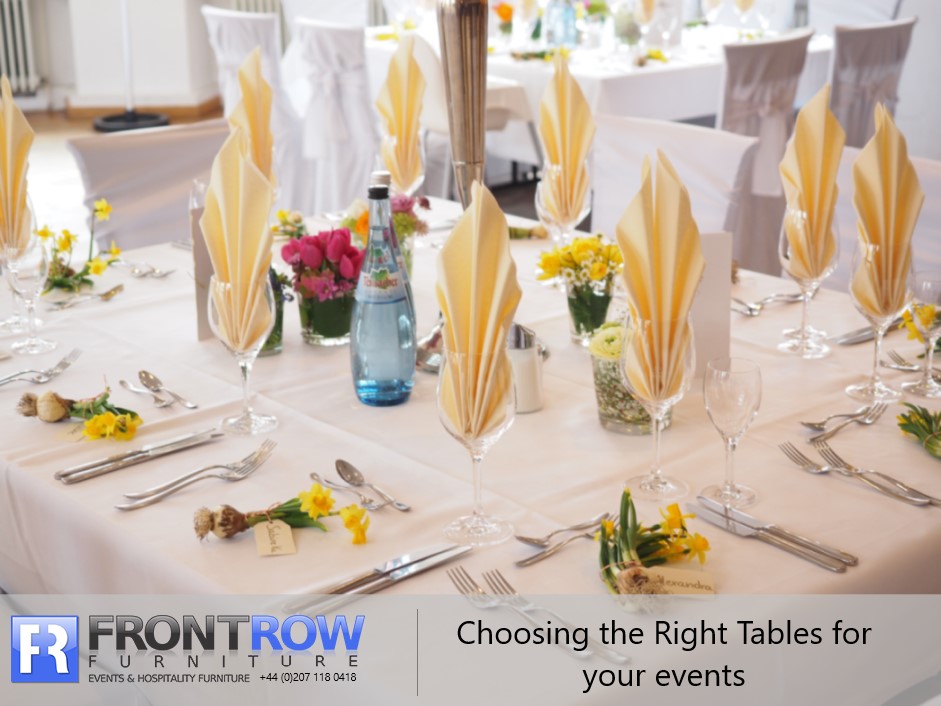 Whether you're arranging a wedding, corporate occasion or outdoor event, getting the right tables is vital. From a small round table to a folding wooden table, discover the DOs and DON'Ts here.
When you're organising an event of any size, the tables you choose will have a major role to play in its success when it comes to creating the right atmosphere and impression. Whether you're arranging a pre-reception event or cocktail business party, a formal occasion or a casual celebration, we can suggest the best tables to suit your needs.
Getting The Size Right
Size is very important when choosing tables for any sort of event. Choose a table that is too small and your guests will be cramped and uncomfortable. Choose one which is too large and the venue may be overwhelmed and guests may feel too spaced out and isolated. For the right atmosphere, it's important to tailor the size of your table to suit the type of event and the number of guests attending.
While large banquet tables are ideal for a wedding with lots of diners, they would be inappropriate for a cocktail party where intimacy is key. A small round table would be a much better choice in such a situation and would work perfectly around a bar area or dance floor for enjoying appetisers and drinks.
Choosing The Right Shape
Shape is another important consideration when choosing tables for an event. Round tables are ideal for formal weddings, dinners, fundraisers or anniversary parties since they allow groups to sit close together and to enjoy conversations with ease. There are several sizes of table available in this shape from the small round table that is perfect for two or three people to enjoy an intimate chat to a larger 5ft or 6ft round table that suits bigger groups.
Remember to consider the shape and size of the venue as well when choosing the right shape table for your event. On the other hand, rectangular banqueting tables are best suited to events such as picnics, sports events, family reunions and birthday celebrations. They allow large numbers of people to be seated together in a convenient seating arrangement.
Selecting A Material
You might not have considered the material that your event tables are made from, however it could be a very important consideration. Not only is getting the material right important for creating the right atmosphere and impression but it could also have a vital role to play when it comes to practicality. If you are hosting an outdoor event, for example, you will need to choose a plastic or wooden trestle table that can resist inclement weather.
What Is Your Table For?
Depending on the nature of your event, you may need different kinds of table. If you are hosting a casual outdoor dining event such as a picnic, for example, folding banquet tables could be ideal for your requirements since they are portable, suitable for use in an outside environment and are large enough to accommodate many diners. On the other hand, if you're hosting an indoor formal event such as a wedding celebration, a 5ft round table could be the best choice to accommodate larger groups of people who want to enjoy a conversation.
As you can see, getting the choice of table right can have a major impact on the success of your event. Call Front Row Furniture today on 0207 118 0418 to discuss your requirements.